Be able to look back on Summer 2016 as a formative time in your political and intellectual life.
"I remember the summer of 2016… It was an election year, and the race for the presidency was between a racist billionaire and a corporate imperial hawk. That was the first time I read Marx."
The Sympathizer: A Novel (2015)
by Viet Nguyen
Genre: Historical Fiction
Price: $10.76 on Amazon
Ruskinia Status: Excited to Read
Winner of the 2016 Pulitzer Prize for Fiction, The Sympathizer has been hailed as this year's masterpiece in identity literature. However, as author Viet Nguyen has stated in interviews on NPR's Fresh Air and The Nation's Start Making Sense, The Sympathizer also touts significant political themes. Centered around a communist sleeper agent in the post-Vietnam U.S., this sure-to-be gripping novel explores what it means to be on the other side of an "American War," and how easily it is to forget the costs of American imperial ventures.
And the Weak Suffer What They Must?: Europe's Crisis and America's Economic Future (2016)
by Yanis Varoufakis
Genre: Economics
Price: $17.39 on Amazon (hardcover)
Ruskinia Status: Excited to Read
Former professor-turned-SYRIZA finance minister Yanis Varoufakis is quickly becoming one of the superstar figures of the dissenting economic left, and his new publicity project — revolving around his manifesto, And the Weak Suffer What They Must? — is creating headaches for European fat cats. A scathing condemnation of the European troika, crippling austerity programs, and financiers' hypocritical model of minimal investment in times of economic hardship, as well as an analysis of how the current problems in Europe will affect the political economy of the United States, this book is undoubtedly a must-read for anyone looking to become well-versed in the defining national and international economic struggles of our time.
Twilight of the Elites: America After Meritocracy (2013)
by Chris Hayes
Genre: Politics
Price: $11.05 on Amazon
Ruskinia Status: Review
Before the rise of Donald Trump, before Bernie Sanders captured the imagination of millions, before "establishment" became a buzzword in American politics, Chris Hayes wrote Twilight of the Elites. Carefully and with great intrigue, Hayes catalogs every major national event of the contemporary political age — from Iraq to Katrina, from the Catholic Church's molestation scandal to the aftermath of the financial bailout, and everything in between — in order to characterize what he refers to as the ruling class's "fail decade." All in all, the prescience of this book is crucial to understanding the social, political, and cultural events that led to today's political climate of widespread animosity toward our nation's decision-makers.
The Modern Middle East: A History (2005, 2015)
by James Gelvin
Genre: History
Price: $47.45 on Amazon (earlier editions run much cheaper)
Ruskinia Status: Good Reference Book
When the first edition of this book was published in 2005, stability and prosperity in the Middle East seemed to be a realistic, albeit far-off dream. Now, with the rise of ISIS, Iraq and Syria's descent into chaos, the failure of the North African Arab Spring, the civil war in Yemen, the largely unchanged status of Afghanistan, and the escalating proxy tensions between the U.S. and Russia, it's hard not to look at regional peace in the Middle East as a lost cause. That's why, now more than ever, it's crucial for the everyday Western citizen to understand the history of how we got to this point. James Gelvin's The Modern Middle East has been the leading academic voice in the historical analysis of current events in the Middle East for a decade, exploring everything from the original Sykes-Picot agreement that divided the region up among Western imperial powers, to the rise of Israel, to the U.S.-backed revolution in Iran, to the escalation of largely substance-less sectarian conflicts. Read, be informed, and hold our government accountable for its foreign relations.
Kissinger's Shadow: The Long Reach of America's Most Controversial Statesman (2015)
by Greg Grandin
Genre: Political History
Price: $19.04 on Amazon (hardcover)
Ruskinia Status: Curious
A series of U.S.-backed South American coups thinly shrouded by a facade of democratic institutions has come to a head in Brazil, the continent's largest and most diverse population and economy. Therefore, it's now more important than ever to understand the origin of the United States's contemporary neocon, imperial foreign policy platform. In Kissinger's Shadow, NYU historian Greg Grandin avoids any and all moralization and delves into hard analysis of what the Kissinger administration's actions and philosophies mean to the present-day world order.
Dark Money: The Hidden History of the Billionaires Behind the Rise of the Radical Right (2016)
by Jane Meyer
Genre: Political History
Price: $20.13 on Amazon
Ruskinia Status: Voice of a Movement
As awareness of the influence of money in politics has, it seems, increased exponentially in the last two years, a bestseller like this has been long in the making. Hailed as crucial to middle- and working-class consciousness by various outlets on the left, Dark Money has the potential to be the voice of an already massive and still growing movement to get money out of American politics.
The New Jim Crow: Mass Incarceration in the Age of Colorblindness (2012)
by Michelle Alexander
Genre: Sociology
Price: $12.80 on Amazon
Ruskinia Status: Voice of a Movement
In the four short years since its publication, The New Jim Crow has become synonymous with the social movement against  ignorant colorblindness, and Michelle Alexander has become its speaker. As economic inequality has dramatically increased in the U.S. in recent decades, the socioeconomic status of black Americans has seen a crisis, culminating in a shocking series of incarceration statistics. Alexander speaks to this phenomenon, as well as to the politics that try to cover up racial disadvantage.
Class War: The Privatization of Childhood (2015)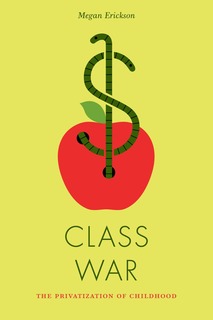 by Megan Erickson
Genre: Education
Price: $11.86 on Verso
Ruskinia Status: Review
Part of a four-book collaborative series from Jacobin magazine and Verso books, Class War is researcher, author, and former New York City teacher Megan Erickson's attempt to delve into the topic of contemporary liberal education from a socialist perspective. It is a phenomenal account of how the forces that have been pushing the country toward privatization have co-opted our antiquated education system in order to push children to adopt corporate America's perverse, cut-throat worldview. If you agree with the assessment that education is the mouth of the river through which either problems or solutions can flow, and if you are tired of corporate interests overstepping their boundaries of influence, then this is a book you need to read.
Helping Children Succeed: What Works and Why (2016)
by Paul Tough
Genre: Education
Price: $11.39 on Amazon (hardcover)
Ruskinia Status: Curious
In the sequel to his widely acclaimed book How Children Succeed (2013), education journalist Paul Tough returns armed to the teeth with new data and anecdotes aimed at providing educators the methods they need to create the healthiest possible learning environments for their students. Building upon the main conclusion of his last book that kids excel in school and life when certain crucial character qualities (some of Tough's examples are grit, self-control, perseverance, and conscientiousness) are deliberately cultivated, Tough delves into how educators, rather than "teach" these important qualities, may create environments in which positive character can naturally flourish, especially when students' lives outside the classroom are stressful or chaotic. Although Ruskinia does has some reservations about this book in that it seems as though it largely refuses to address how certain systemic aspects of the current education model make it more difficult than should be allowed for educators to create Tough's prescribed learning environments, Helping Children Succeed nonetheless is crucial to understanding what and how to change the way we think about education.
Capital in the Twenty-First Century (2014)
by Thomas Piketty
Genre: Economic History
Price $23.33 on Amazon (hardcover)
Ruskinia Status: Excited to [Skim]
Whenever the Guardian dubs an author as "radical," you know something good is going on. French economist Thomas Piketty's 700-page monster is a culmination of ten years of research, and, according to sources who have actually read the thing, it does a brilliant job of setting the record straight on the topic of capitalism and inequality. Slyly nicknamed Kapital in the Twenty-First Century by and for those who would understand that reference, Piketty's grand opus is sure to be a crucial text of the far economic left for decades to come.
The "S" Word: A Short History of an American Tradition… Socialism (2015)
by John Nichols
Genre: Political History
Price: $13.96 on Verso
Ruskinia Status: Good Reference Book
Largely thanks to Bernie Sanders and the popular anti-capitalist sentiment that preceded his presidential campaign, the title of this book doesn't really apply in the same way that it used to — and that's exactly why it's a must-have for any politically conscious leftist. Socialist ideas are ripe for revitalization in the United States, and the first step in advocating for them is to know about the rich, successful history of socialist programs in the U.S. and throughout the world. A pet project of the widely-acclaimed left-wing political commentator John Nichols, The "S" Word could not have come at a better time.
The Communist Manifesto: A Modern Edition (1848, 2012)
by Karl Marx and Friedrich Engels
edited by Eric Hobsbawm
Genre: Political Economy
Price: $9.06 on Verso
Ruskinia Status: Crucial Classic
For those of us who don't have time to trudge through the entirety of Das Kapital (or Capital in the Twenty-First Century), Volume I of the Manifesto provides all of the scathing critique of capitalism in beautiful Marx and Engels prose (perhaps minus some of the background philosophy) in a fraction of the pages. You know you need this on your bookshelf.
Unto This Last and Other Writings (1862, 1986)
by John Ruskin
edited by Clive Wilmer
Genre: Political Economy
Price: $13.06 on Amazon
Ruskinia Status: Crucial Classic
The name of this blog would be an abomination if its summer reading list didn't include some Ruskin writings. Written in 1860 but published as one piece in 1862, Unto This Last was art critic John Ruskin's first go at purely social and economic criticism, and it turned out to be a masterpiece for the ages. Taking capitalism down on a moral basis, Unto This Last is a perfect compliment to Marxist materialism, and will leave you laughing, crying, and inspired to create a more just and beautiful society.